Today, small business and digitalization go hand in hand: it is hardly possible to imagine an agile and prosperous business without digital technologies in use. Thus, the market offers a great variety of services and solutions from the best mobile development companies. For instance, Statista reports, in 2020 there were over 3.4 million apps available in the Apple Store. 
On the other hand... Houston, we've got a problem here! Finding a truly good development company that is dutiful and cost-effective may turn out to be a daunting task for small business owners. Well, we picked the 7 best mobile development companies to facilitate your choice of the right partner for your business. Here they are.
1.Neologic

Founded in 2008, Neologic has soon become a leader in its industry specializing in creating a digital ecosystem for a company to accelerate growth. Neologic provides such services as world-class software development, product development, business analysis, cloud computing, telecommunications, virtualization, etc. 
Besides, the company offers a written budget guarantee to eliminate any cost and schedule overrun risks. The founders of Neologic believe that any waste of money by their client is totally unacceptable, so by outlining strict business requirements and creating a detailed solution before implementing the code, the company delivers services and products that are successful in terms of money and time.
Moreover, the Neologic team has just been named one of the 10 best mobile app developers in Naperville, Il, by Expertise. The company has also been acknowledged by Manifest, and Clutch, B2B research firms.
- Founded in 2008
- Located in Northbrook, Il
- Clients: Illinois Institute of Technology, Platform Athletics, Abcor Home Health 
2.Netsells

Founded as a collaboration among top UK students, Netsells is now an award-winning England-based company naming itself as a digital product consultancy working across web and mobile for large and small businesses. With the presence in over 40 countries, Netsells delivers complex digital projects and programs across organizations and their wider ecosystems. The company is acknowledged by Clutch.
- Founded in 2010
- Located in York, England
- Clients: YourParkingSpace, Trainline, Warburtons, NHS, Costa Coffee
3.TechAhead

TechAhead is a global leader in bespoke software development. It is a team of industry and technology experts engineering robust, innovative and scalable apps at speed. The company is recognized by Clutch and GoodFirms. 
The TechAhead's portfolio includes large enterprises as well as small businesses and startups working in various industries, such as healthcare, e-commerce, sports, real estate, construction, and many more. The company has also had collaborations with Google Developers, IBM, Microsoft, etc.
- Founded in 2009
- Located in Los Angeles, CA, and New Delhi, India
- Clients: The Healthy Mummy, ETHOS, Your Access, TM Training
4.Dogtown Media

Dogtown Media is also one of the best mobile development companies in the US. It has headquarters in Venice Beach, CA, as well as offices in San Francisco, New York City, and London. Due to its presence around the globe and with the help of hardened techies in its team, the company has already created more than 200 apps for small businesses and Fortune 500 companies as well.
Dogtown Media leverages cutting-edge possibilities in AI, IoT, geo-location, mobile photo and video technology, financial services, and more. The company is also awarded by Clutch, and included in the Inc. 5000 list.
- Founded in 2011
- Located in Venice Beach, CA
- Clients: Redbull, Macy's, Citi Bank, Lexus
5.MobiDev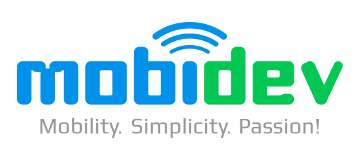 With the software development team based in Ukraine, and offices in the US and the UK, MobiDev is one of the best mobile development companies spreading its presence across continents. Large enterprises and small businesses and startups turn to MobiDev to receive excellent services and products. The company is acknowledged for creating cross-platform products with React Native framework.
- Founded in 2009
- Located in Norcross, GA; Sheffield, England
- Clients: Growth Hackers, Secure Group, Verizon Media
6.HubSpire

HubSpire is a US company consisting of management consultants, app developers, designers, and digital experts. The company is a long-term player specializing in mobile and web app development, IoT development, and end-to-end IT strategy. Among its clients are small businesses and startups, as well as government agencies and large corporations. 
- Founded in 2008
- Located in New York City, NY
- Clients: Care Connect, Hamptons Rental, Veterans History Project
- Project Cost: $1000 - $4000+ for table-based apps; and $8000 - $50,000 for database-driven custom apps
7.Branded

Last but surely not least in our listicle, we have a mobile development company from Israel. Branded specializes in mobile app development, UX/UI design, as well as web development primarily for small businesses so far. 
It is a pretty young company, nevertheless, it has strong core values, like enhancing business models, ensuring high quality and hard work, maintaining pixel-perfect interfaces, and providing dedicated teamwork. 
All this helped Branded spark profound interest from stakeholders after developing an exceptional web and mobile app for a fitness company.
- Founded in 2015
- Located in Tel Aviv, Israel
- Clients: Fitit, Basicli, Lanci
In conclusion
Hopefully, this list of 7 best mobile development companies will be very helpful in finding the right partner for your business. We tried to make the list special by giving detailed and reliable information about every company and marking the companies out from one another.
May your digital transformation and mobile application bring you prosperity and viability!
share this article with: